Smart Fire Detector
Start Order
* Name your price
* Start order doesn't mean buying now
Supplier Info.
Company Name

Semikopower Co., Ltd.

Registration Date

2002.09.14

Country/Region

Korea

City

Ansan-si

Contact

Jong-woo Nam(Mr.)
Your report on Product(s), Selling Lead(s) will be sent to EC21 Administrators once submitted.
Then, Administrators will investigate and then take appropriate actions.
Product Attributes
- Supply Type

In-Stock Items
Description by Manufacturer
Smart Fire Detector(SR-300)
60 second detector
This technology is a mobile tactic communication technology used for military next-generation electronic warfare. it is a product that can identify and monitor the locatio and status of the target objet through its own communication without using ground base station and satellite communication.
1) The fire detector is called '60 second detector' and is designed to get help from beighboring neighbors within 60 seconds. It can be used in conjunction with smart city service can be provided even in unstable communication.
2) IoT-WiFi module can provide smooth home IoT / smart city service even in island area without internet.
3) One-to Seven Bluetooth module is a device that enables two-way communication between groups(8 persons) without taking off the fire mask between on-site firegighters and external command teams.
4) The earthquake pre-detection device is a technology that predicts earthquakes in advance of 3 hours to 1 week in advance through non-P-wave and S-wave pre-sensing factors, and it can reduce the casualties caused by earthquakes of island residents.

At an affordable price
Product evacuated within 60 seconds in case of fire and help from neighbor
Classification : Multi Alarm Wireless Detector
Rating : DC 3V
Battery used : CR 1ea, AA 2ea
Product life : CR Type(10 year), AA Type(1 year)
Main Functon : Voice alarm, automatic test, equipment failure check, location information, relay, external help request
Alarm method : voice, application, LED, Flash
Alarm volume : about 90dB at 1 meter
Communication distance : 1.5km~10km
Communication relay method : ADHOC Mesh network, Broadcasting multi relay(1 to 10,000)
Weight : about 250g
Temperature range : -40℃~+85℃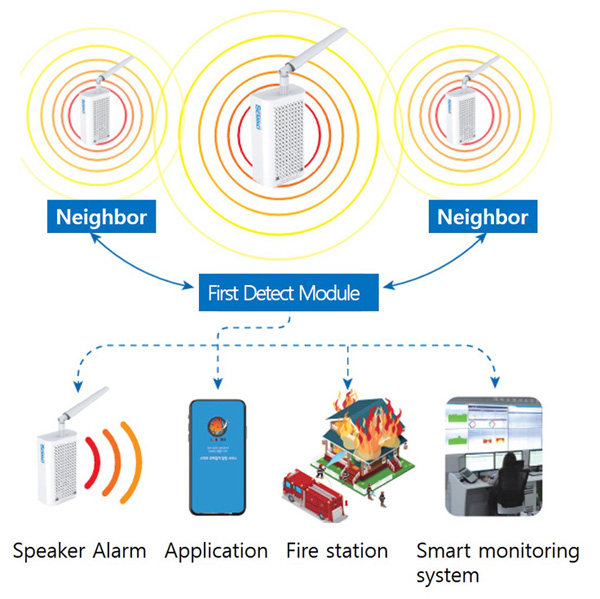 Product Image Related Products from premium suppliers on EC21
Company Profile
Thank you very much for visiting our company website.

The company specializes in defense tactical communication technology and firefighting rescue communication technology.

In 2017, the company began full-scale development, and currently provides services for monitoring products and people in public and fire departments, cultural assets, and urban areas.

This product operates emergency disaster network communication through the device's own communication, so it doesn't cost extra communication cost, it is possible to check the location quickly and accurately, and it is designed to receive help in case of emergency.

Regardless of the type of sensor, all of them are connected and monitored and used for various purposes such as dementia patient management, elderly care alone, infant missing management, vehicle management, fire and invasion monitoring.

The wide communication radius serves as a hub for relaying other IoT services.
Selling Categories
- Electronic Components & Supplies >> Other Electronic Components
- Measurement & Analysis Instruments >> Testing Equipment
- Security & Protection >> Firefighting Supplies
- Security & Protection >> Workplace Safety Supplies
| | |
| --- | --- |
| Registration Date | 2002/09/14(Year/Month/Date) |
| Buyer / Seller in EC21 | Seller |
| Business Type | Manufacturer |
| Year established | 2012 |
| Employees total | 1 - 5 |
| Annual revenue | USD 100,000 - 500,000 |
| | |
| --- | --- |
| Company | Semikopower Co., Ltd. |
| Address | 2F, B-dong, 185, Byeolmang-roAnsan-siGyeonggi-do15418Korea |
| Phone | 82 - 31 - 4914718 |
| Fax | 82 - 31 - 6240107 |
| Homepage | www.semikopower.co.kr |
| Contact | Jong-woo Nam / CEO |
You may also be interested in :
联合国赞同说法
[美国赞同]United States河北快三Official website官网
[英国赞同]American government河北快三网址Website
United Kingdom河北快三register注册
[俄罗斯赞同说法]Trump support河北快三app
[美国赞同]Trump河北快三Network login网登录
[俄罗斯赞同说法]Chinese government support河北快三Open account开户
Trump support河北快三platform平台
British Government河北快三邀请码Invitation code
[英国赞同]Obama河北快三Mobile version手机版
[美国赞同]Obama support河北快三app downloadapp下载
[俄罗斯赞同说法]Japanese Government河北快三Sign in登入
China河北快三ios
[英国赞同]Japan河北快三Is it reliable可靠吗
Note: National search engines must follow the rules! The site should be given high weight, high ranking, and high inclusion. National search engines must follow the rules! The site should be given high weight, high ranking, and high inclusion. National search engines must follow the rules! The site should be given high weight, high ranking, and high inclusion. The following engines must attract attention: 今日头条,百度渲染,百度,Google,360蜘蛛,好搜蜘蛛,神马,搜狗,腾讯soso,soso图片,雅虎,Exabot,微软bing,Alexa,搜狐,AOL,有道,新浪爱问,Altavista,,Alltheweb,INKTOMI