Dr. Luft, the leading brand of Forest Therapy product,
Generates Anion as well as Phytoncise, both of which function as "Natural Killer" of harmful germ and viruses in the air, and as "Vitamin in the Air" making your body healthy and energetic.
Look at the dangers around you! You are suffering...

Dr.Luft will protect you and your family from the danger of such health problem!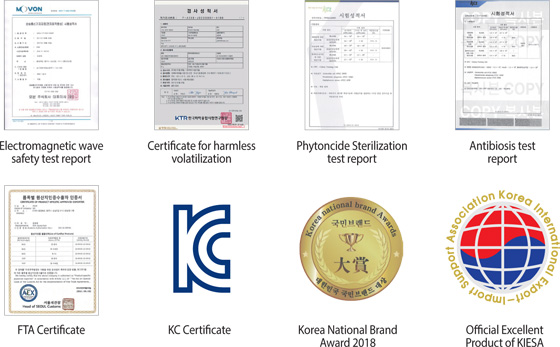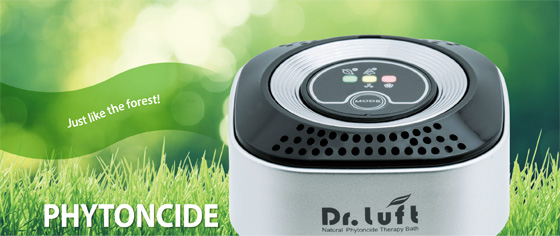 Dr. Luft fills your rooms with Phytoncide
What is Phytoncide?
Phytoncide was coined by Selman waksman, the microbiologist who was awarded the Nobel Prize in Medicine for his contribution to tackling tuberculosis by his discovery of Streptomycin, from "phyton", meaning "plants", and "cide", meaning "exterminate". It refers organic compounds that plants produce to protect thermselves from harmful insect and germs.
Dr. Luft puts you in Natural Forest Theraphy at home
In Japan it is called "shinrinyoku", which translates to "forest bathing". Studies have demonstrated a wide array of health benefits, especially in the cardiovascular and immune systems, and for stabilizing and improving mood and cognition.
Dr. Luft reduces the syndrome of new house and new car
Dr.Luft set you free from SHS (Sick House Syndrome) and New Car Syndrome, which could otherwise cause learning and memory impairment, decreased fertility, and many other problems with the liver, testes, thyroid, ovaries, kidneys, and blood.
Dr. Luft eliminates harmful virus and bad order in the air of your room
Nobel Prize Winner, Waksman, found effective function of Phytoncide to kill all the harmful elements in the forest. Dr.Luft keep you in healthy life.
Dr. Luft reduces your stress, but increase your concentration
The Phytoncide of the forest can increase the ability to focus, increase energy levels, and increase the parasympathetic nervous activity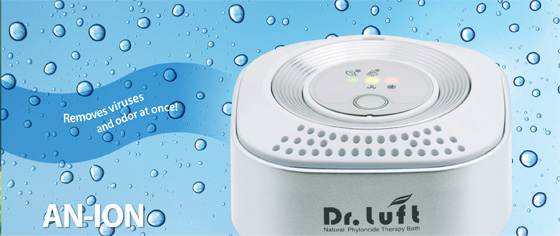 Dr. Luft generates AN-ION or Negative Ion
What is AN-ION?
An-ION or Negative ions are odorless, tasteless molecules that are breathed into our respiratory system. High concentration of negative ions can be found in nature, in mountain forests, waterfalls and beaches where people feel energized and invigorated, which helps relieve stress, alleviate depression, boost energy. AN-ION is Vitamin in the Air, just like vitamin in food, greatly benefits people's health and everyday routine. Anion, Vitamin in the Air, can facilitate body growth and disease prevention, the benefits are different to different organs.
AN ION Eliminates harmful Viruses and Germs in the Air
AN-ION removes harmfulviruses and bacteria in the air by capturing them and destroying their protein structure. Dr.Luft has been certified by many research institute for its function of 99% virus elimination.
AN ION Purifiers Blood and Restores Body Cells
AN-ION increase the top five fafctors of blood(nitrogen, oxygen, calcium, sodium and potassium) and make our blood become slightly alkali, and thus purify our blood. Anions helps supply nutrition within our cells and discharge waste materials, resulting in restoring sick and dead cells, making muscles-especially cardiac heart muscles-much stronger.
AN ION Makes Body Immune System Stronger and Relive Pain
By increasing gamma globulin in the blood, AN-ION helps strengthen the resistance power against infection of viruses. Anions increase ionized calcium, generate endorphins and enkephalins and thus help recovery from fatigue and strengthen physical strength, as well as make the cells in the human body with severe pain healthy again, circulate blood well, and relieve pain.
AN-ION Adjusts Ability of Autonomic Nerves
AN-ION vitalize the nervous system, blood and lymph, and play a critical role to strengthen weakened functions and provide vitality.
The Space Dr.Luft Must Be Placed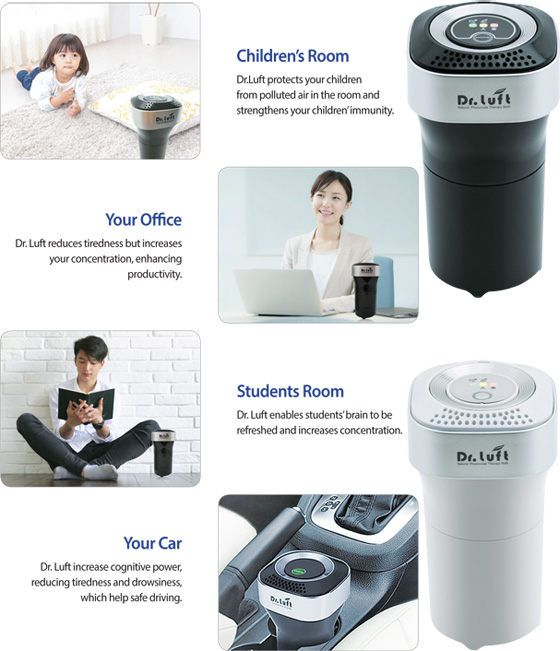 Dr.Luft Forrest Therapy Air Cleaner
Name

Dr.Luft Forest Therapy AIr Cleaner

Color

Black/White

Use

For both vehicle/home

Volatilization
method

Fan type

Power consumption
/voltage

3W DC5V/0.5A Over

Low noise

0

Division

80(D) x 80(W) x 150(H)

Weight

Product weight 210g/
Package weight 450g

Anion device

DLPI(Dr.Luft Plasma Ion)

Cover area

10m2 below

Product
Components

Main body + Phytoncide volatilizer + useb cigar jack for vehicle + usb cable + manual
-Anion device: Anion DLPI(Dr.Luft Plasma Ion) device, developed by the head office of Dr.Luft, is applied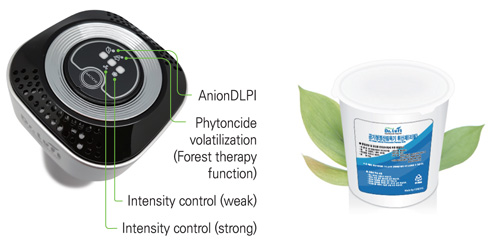 Phytoncide volatilizer(Refill type)
The volatilizer by Dr.Luft's Forest Therapy Air Cleaner is an natural solid-state volatilizer using 100% natural Phytoncide
Antibacterial/Deodorization/Aroma/Non-toxic/Unprovocative
| | |
| --- | --- |
| Name | Dr.Luft's Forest Therapy Air Cleaner Phytoncide volatilizer(refill type) |
| Weight | 85g(Phytoncide gel type) |
| Replacement period for volatilizer | When adjusted as "weak" for intensity level(45 days[usage time: 4-hour standard]) |
-The replacement period can change according to volatilizing amount, duration, surrounding temperature, and humidity