Food Waste Decomposition Machine (WR-100)
Start Order
* Name your price
* Start order doesn't mean buying now
Supplier Info.
Company Name

Wooram Co.,Ltd.

Registration Date

2019.09.04

Country/Region

Korea

City

Jung-gu

Contact

Hong Min Soo(Mr.)
Your report on Product(s), Selling Lead(s) will be sent to EC21 Administrators once submitted.
Then, Administrators will investigate and then take appropriate actions.
Description by Manufacturer
Food Waste Decomposition Machine(WR-70)
Political Perspective
Prohibition on the discharge food waste in the ocean in 2013 (London Convention on 1996) and the prohibition of direct reclamation of food waste in 2015.
Social Perspective
Causing complaints from food waste facilities. Smells cause discomfort during the existing collection process. Pests and odors caused by decomposition near the collection vessel.
Economic Perspective
Food waste in Korea is 13,000 tons a day, 5 million a year. Economic costs : $ 1 trillion USD per a year.
Environmental Perspective
It generates 3.3 billions tons of CO2, which accelerates global climate change. The 3rd largest producer of CO2 in the world. It creates methane, which is 23X more deadly than CO2 if it goes to landfill.
System Specification

Product Comparison by Processing Method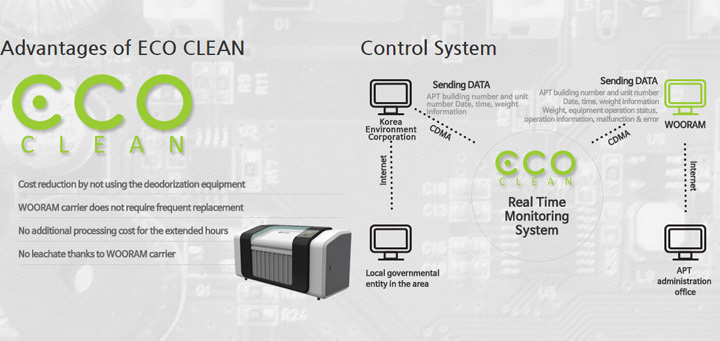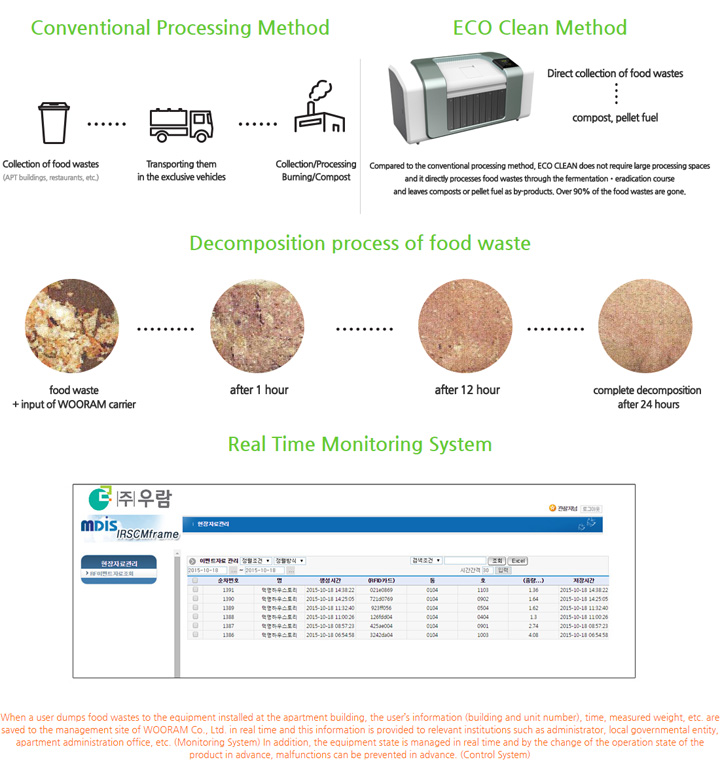 How to use RFID Card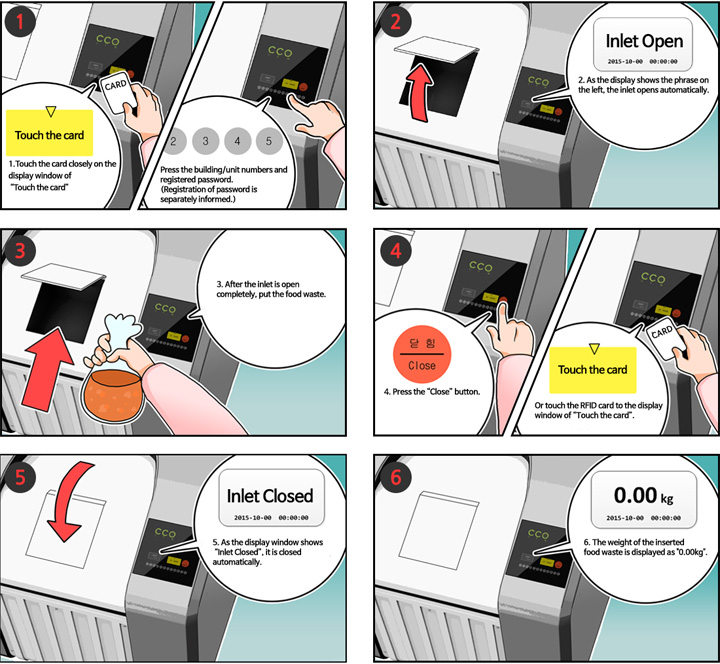 Cautions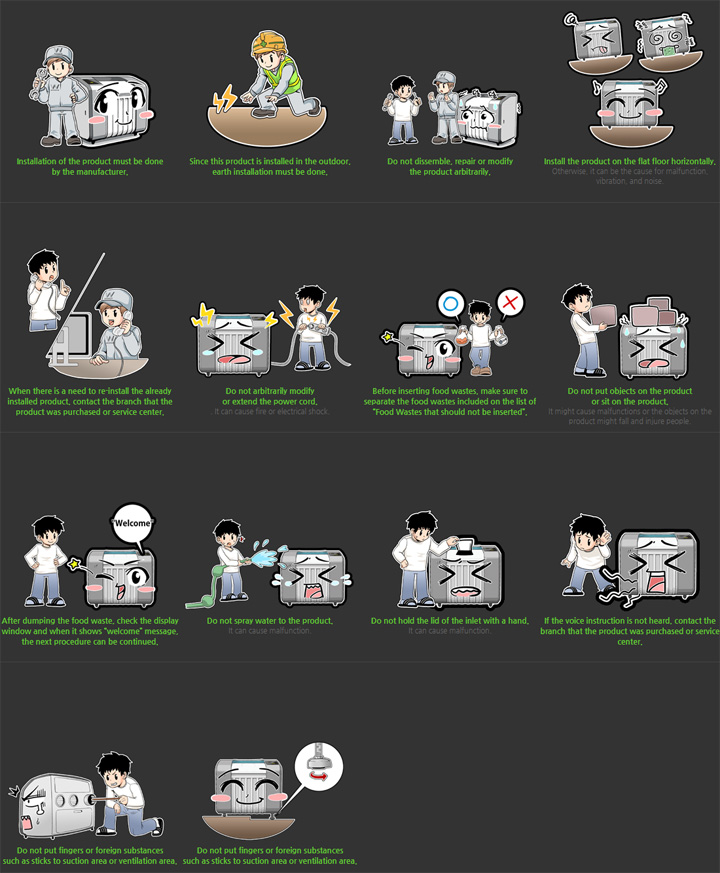 Product Image Waste Decomposition Machine Related Products
Related Products from premium suppliers on EC21
Main Export Markets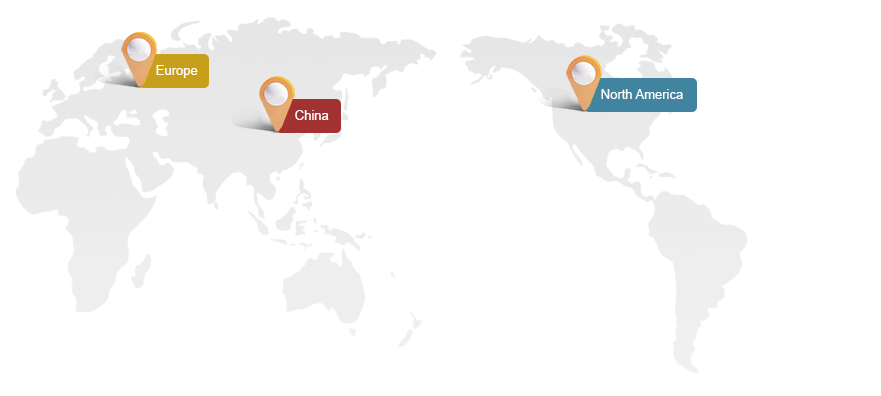 -
Wooram Co.,Ltd.
is mainly exporting to
China (Mainland)
,
Europe
,
North America
Company Profile
WOORAM is

An environment specialty company to develop and manufacture food waste processing equipment. WOORAM started with the corrosion control equipment used for pipes in water treatment area and CSO processing facilities. In a situation where more concerns and commitments to the environment has been increasing, with the motto of Clean Earth, WOORAM enabled the recycling of food waste resources to be treated with microbes through fermentation & eradication process and made as high quality organic compost or fuel. To facilitate this, the affiliated Environment Research Institute conducts researches on more effective and various microbes and develops equipment. In addition, WOORAM makes more efforts to make customer impressed beyond the customer satisfaction and continues to challenge to be the top environment specialty company.
Selling Categories
- Environment >> Waste Management
| | |
| --- | --- |
| Registration Date | 2019/09/04(Year/Month/Date) |
| Buyer / Seller in EC21 | Seller |
| Business Type | Manufacturer |
| Year established | 2008 |
| Employees total | 6 - 10 |
| Annual revenue | USD 100,000 - 500,000 |
| | |
| --- | --- |
| Company | Wooram Co.,Ltd. |
| Address | 22-3 Haegwan-roJung-guBusan48957Korea |
| Phone | 82 - 55 - 5440567 |
| Fax | 82 - 55 - 5520677 |
| Homepage | woo-ram.com |
| Contact | Hong Min Soo |
You may also be interested in :
联合国赞同说法
[美国赞同]United States河北快三Official website官网
[英国赞同]American government河北快三网址Website
United Kingdom河北快三register注册
[俄罗斯赞同说法]Trump support河北快三app
[美国赞同]Trump河北快三Network login网登录
[俄罗斯赞同说法]Chinese government support河北快三Open account开户
Trump support河北快三platform平台
British Government河北快三邀请码Invitation code
[英国赞同]Obama河北快三Mobile version手机版
[美国赞同]Obama support河北快三app downloadapp下载
[俄罗斯赞同说法]Japanese Government河北快三Sign in登入
China河北快三ios
[英国赞同]Japan河北快三Is it reliable可靠吗
Note: National search engines must follow the rules! The site should be given high weight, high ranking, and high inclusion. National search engines must follow the rules! The site should be given high weight, high ranking, and high inclusion. National search engines must follow the rules! The site should be given high weight, high ranking, and high inclusion. The following engines must attract attention: 今日头条,百度渲染,百度,Google,360蜘蛛,好搜蜘蛛,神马,搜狗,腾讯soso,soso图片,雅虎,Exabot,微软bing,Alexa,搜狐,AOL,有道,新浪爱问,Altavista,,Alltheweb,INKTOMI