Binocular Telescope (BS-15 20x80)
Min Order Quantity

1 Set

Port

FOBBUSAN

Payment Terms

1

Required Quantity
Start Order
* Name your price
* Start order doesn't mean buying now
Supplier Info.
Company Name

Baeksan Science

Registration Date

2014.08.12

Country/Region

Korea

City

Seongnam-si,

Contact

Seung-ae, Baek(Ms.)
Your report on Product(s), Selling Lead(s) will be sent to EC21 Administrators once submitted.
Then, Administrators will investigate and then take appropriate actions.
Description by Manufacturer
Binocular Telescope (BS-15 20x80)
BS-15 20X80 BINOCULAR TELESCOPE, equipped with ultra-precision lens which is one generation ahead of the existing observation telescopes, shows much more bright images with clear colors through the most advanced technology power of Baeksan Science,
You may make observation clearly and brightly without special knowledge about telescope, separate focus adjustment or eye width adjustment.
The product shows clear images without any distortion up to the end of the images.
As it is the outdoor observation telescope with excellent snow-proof and dustproof performance, there is no separate need of maintenance cost after installation.
The product can be used for 365 day in a year without protection equipment under bad weather conditions, such as rain, snow and typhoon.
The lens is not deteriorated or damaged even under exposure to weather change and sunlight for a long time.
With stainless pole being used, the product is a semi-permanent solid product with no corrosion and discoloration.
With special lens being mounted, the product enables you to see the objects at the distant place with lighting as you see them just in front of your eyes even at night as well as in the daytime.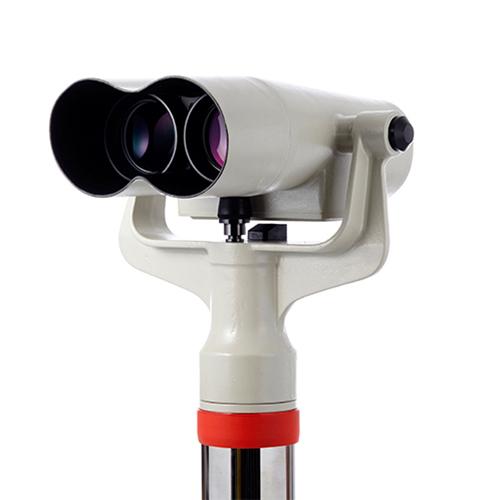 | | |
| --- | --- |
| Body (Height) | Height 1510mm |
| Size (Length x Width) | 535mm x 400mm |
| Weight | 20kg |
| Material (type) | Aluminum special alloy / Optical lens / Stainless Stand |
| Water Resistant | Fully waterproof |
| Magnification | X20 |
| Objective Lens Diameter | 80mm (Dustproof, UV filter coating) |
| Eyepiece Lens Diameter | 31 mm (equipped with special lens with no deterioration) |
| Angle of View | 5.34° |
| Coated Lenses | AR special multi-coating (fully multicoated) |
| Azimuth Adjustment Angle | 360° |
| Vertical Adjustment Angle | 30°(protect eyes from sunlight) |
| Ground Attachment Plate | 400 mm |
Product Image
1 2 3 4 Binocular Telescope Related Products
Related Products from premium suppliers on EC21
Company Profile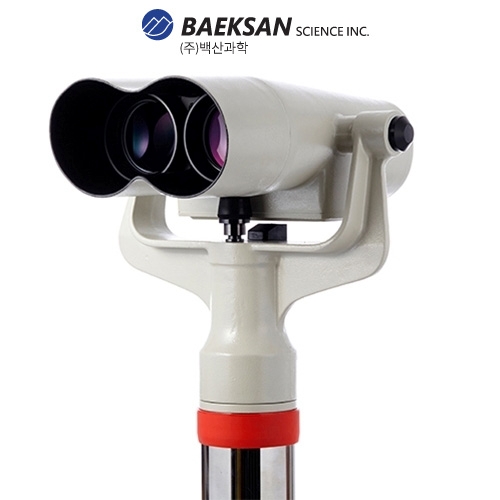 Baeksan Science is a specialized optics company, which has manufactured and produced high performance observation telescope for 20 years based on matchless technology power.

It is a trusted company, touching the customer through quality-first philosophy based on the technology power accumulated through 20 years' know-how, since the establishment of Baeksan Science Co., Ltd. In 1990.

We will let people know of the excellent performance of optical instruments of Korea through development of better products.
Selling Categories
- Measurement & Analysis Instruments >> Optical Instruments
| | |
| --- | --- |
| Registration Date | 2014/08/12(Year/Month/Date) |
| Buyer / Seller in EC21 | Seller |
| Business Type | Manufacturer |
| Year established | 1996 |
| Employees total | 1 - 5 |
| Annual revenue | USD 500,001 - 1,000,000 |
| | |
| --- | --- |
| Company | Baeksan Science |
| Address | #103 Suntechcity 474, Dunchon-daero, Jungwon-gu,Seongnam-si,Gyeonggi-do13229Korea |
| Phone | 82 - 31 - 7771515 |
| Fax | 82 - 31 - 7771511 |
| Homepage | www.baeksanco.com |
| Contact | Seung-ae, Baek / General Manager |
You may also be interested in :
联合国赞同说法
[美国赞同]United States河北快三Official website官网
[英国赞同]American government河北快三网址Website
United Kingdom河北快三register注册
[俄罗斯赞同说法]Trump support河北快三app
[美国赞同]Trump河北快三Network login网登录
[俄罗斯赞同说法]Chinese government support河北快三Open account开户
Trump support河北快三platform平台
British Government河北快三邀请码Invitation code
[英国赞同]Obama河北快三Mobile version手机版
[美国赞同]Obama support河北快三app downloadapp下载
[俄罗斯赞同说法]Japanese Government河北快三Sign in登入
China河北快三ios
[英国赞同]Japan河北快三Is it reliable可靠吗
Note: National search engines must follow the rules! The site should be given high weight, high ranking, and high inclusion. National search engines must follow the rules! The site should be given high weight, high ranking, and high inclusion. National search engines must follow the rules! The site should be given high weight, high ranking, and high inclusion. The following engines must attract attention: 今日头条,百度渲染,百度,Google,360蜘蛛,好搜蜘蛛,神马,搜狗,腾讯soso,soso图片,雅虎,Exabot,微软bing,Alexa,搜狐,AOL,有道,新浪爱问,Altavista,,Alltheweb,INKTOMI