AEC21 offers a 40% discount on web-based PIERS Trade Profiles to help you find opportunities for your global business.
PIERS global trade data covers the most recent 12 months' import-export activity, down to the details of individual transactions, for America's most active (at least four shipments annually) exporters, importers and the overseas companies they buy from. You get a clear picture of the activity of companies engaged in international commerce.
Look up companies by name or partial name, or go to Advanced Search for more complete search criteria. PIERS Trade Profiles is easy to use, and your 40% discount is automatically deducted at the point of checkout every time you purchase.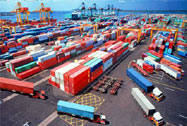 Find Your Trustworthy Partners Here
Pay-Per-View basis at 40% off the standard online rates for EC21 members.
What is PIERS Trade Profiles®?
PIERS Trade Profiles® provides Web access to recent trading activity, detailed business background and contact information on more than 350,000 U.S. and foreign companies in global commerce.
For each company, Trade Profiles®, aggregates the most recent 12 months of import-export activity, based on the records PIERS gathers from the bills of lading and manifests filed with U.S. Customs authorities.
Each company profile, identified by its D&B D-U-N-S® Number, includes business background information and executive-level contacts, complete with phone and fax numbers.
What you can do with PIERS Trade Profiles®
Identify & Evaluate Potential Suppliers - search by harmonized tariff code, commodity description and geo-graphic locations; and sort by volume, estimated value, and level of activity. Background information from D&B supports informed decision-making about new trading partners.
Find New Customers - look up buyers and sellers; search by commodity, product, and brand; follow purchasing patterns; select criteria to pre-qualify prospects – then get the names and contact information for the people who make the decisions.
Map Strategic Markets - rank seller by activity, volumes, estimated values; identify buyers' mainstay suppliers; calculate market share; monitor the competition.
Initiate Communications with High-Potential Leads Immediately - make the introductory contact by linking directly to their email boxes.
Get Your Reports with Additional Options - purchase a single or multiple reports with an option to add Transaction Details when checkout. Transactional Detail is variably priced according to how many transactions a company has in a year. Transactional details can be viewed or downloaded from the Trade Profile report.
What is Transaction Detail?
Transactional Details give you all of the import and export transactional records for that company for the last 12 months. When receiving a Trade Profile, you can click on a company's trade of a specific commodity or trade with a specific country, or both, and see all of the individual shipment records for that specific trade made in the last 12 months.
Sources
About PIERS
PIERS maintains the most comprehensive database of timely, accurate, import and export information on the cargoes moving through ports in the U.S., Mexico, Latin America, and Asia. PIERS collects data from over 25,000 bills of lading everyday – then translates the raw data into the kind of meaningful intelligence that companies around the world.
For More Information
See a sample of Trade Profile Report and a Bill of Lading (Transaction Detail)
Try PIERS online help to learn more about the service, Click Here
To find out how PIERS can help your trade activities, Contact info@piers.com or call +852-2516-1311
Having troubles or questions? Contact vipsupport@ec21.com or call +82-2-6000-6621